Title & Mortgage Services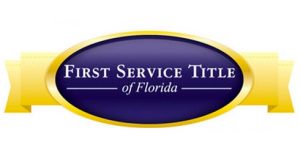 First Service Title Company of Florida is locally owned and operated by Anita Dana and Ryan Coleman, both natives of Orlando. The company focuses their services in the Central Florida market with branches currently in the Oviedo and Winter Park areas. One thing that sets our company apart from the competition is our mobile closing services. We believe that agents and customers deserve the experience and knowledge that our company has fostered for many years, so we assure that there is an experienced escrow agent available for all local out of office closings, at no additional cost.
Together with their staff of tenured licensed escrow officers First Service Title of Florida boasts over 100 years of combined experience in the title insurance industry. Partner and Licensed Title Agent, Anita Dana, began her career in the industry over 35 years ago. She began in banking, but found her true passion when transitioning into the world of title. "Each transaction is a story book, you get connected to the charters and get to take all that has been done throughout the process, tie a bow around it, and hand keys to the buyers and proceeds to the sellers at closing. What could be more rewarding?" says Anita.
Partner and Licensed Title Agent, Ryan Coleman, joined Anita, his Aunt, in 1996. He began his journey as a sales representative for the company and is now the Operating Managing Member. "I enjoy getting in the trenches with the agents, buyers, and sellers to do whatever it takes to get the transaction to closing." says Ryan. He is dedicated to the industry and his clients.
First Service Title of Florida; our name says it all: Service, this is our reputation and our promise to you.
Office: (407) 359-1404
Website: http://1stservicetitle.com
Email: info@1servtitle.com